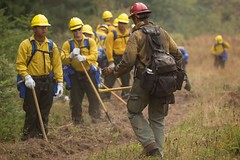 Andrew Addey is currently a Forest Training Officer, a position he landed after ten years on the Sawtooth Interagency Hotshot Crew.
Travis and Andrew chatted about a ton of important topics, including:
Growing our perspective on the job of a Line Officer.
Expanding our training beyond the "traditional" courses.
The San Antonio Fire Hit by Tree and Medical Extraction.
Preparing more than just radio drivers for emergency command roles.
Learning from Military Crew Advisor assignments.